New California Sexual Harassment Training Deadlines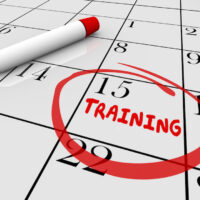 California legislators have responded in force to the #MeToo movement and other developments in anti-harassment culture with new laws regarding discrimination in the workplace, laws banning gag orders on sexual harassment settlements, and other regulations protect workers.  California law already requires employers to hold periodic training on preventing sexual harassment in the workplace, but recent changes in the law have altered the deadlines for implementing these new training requirements.
Deadline for sexual harassment training extended
California Senate Bill 1343, signed into law last year, expanded the California Fair Employment and Housing Act's (FEHA) purview from employers with 50 or more employees to employers with five or more employees regarding sexual harassment training.  Under FEHA, and now SB 1343, any employer with five or more employees must provide at least two hours of training and education regarding abuse and sexual harassment to all workers in a supervisory position within six months of the employee's hiring or assumption of a supervisory position, and provide training updates every two years.  All other nonsupervisory employees must undertake one hour of training within six months of assuming a position and take updated training every two years.
SB 1343 set a deadline for employers to comply with the new training rules:  January 1, 2020.  Quickly, employers found themselves scrambling to meet the short deadline.  On August 30, 2019, Governor Newsom signed into law SB 778, which extends the training deadline to January 1, 2021.  Employers who were already training supervisors and other workers before SB 1343 can continue to follow existing two-year cycles.
Based on the two-year cycle and the SB 778 extension, here's when you need to provide training for your employees based on when you last trained them:
Employees who last trained in 2017 under the previous law should undergo retraining this year, 2019, to preserve their existing two-year cycle.

 

They must be trained by January 1, 2020, to satisfy the two-year rule.

Employees last trained in 2018 can maintain their two-year cycle by retraining in 2020, satisfying the new deadline under SB 778.

Employees last trained in 2019 can be retrained in 2021, per SB 778, two years from the time they were last trained.
If you are an employee with harassment or employee rights concerns in Orange, Riverside, San Bernardino, Los Angeles, or San Diego counties, or a California employer dealing with hostile work environment allegations, employee contract disputes, or other employment law issues, contact the seasoned and talented California employment law attorneys at Coast Employment Law at 714-551-9930 for a free consultation.