Wage Laws on Mandatory Training: What Are Training Wages in CA?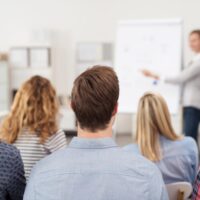 Sometimes, a company will hire an employee and give them a start date two weeks out, but require the employee to attend "training" before their first day. Other times, employers may require current employees to attend training after work hours or on the weekends. In either circumstance, can the employer claim that the employee was not actually "working" and therefore need not be paid? Below, we explain how mandatory training is treated under California and federal labor laws.
CA Employers Must Pay Employees for Mandatory Time
Non-exempt California workers must be paid for all working hours. If an employee is working, they must be compensated. Refusing to compensate an employee for working hours is a violation of California's labor laws and opens up the employer to liability.
In California, whenever a non-exempt employee is required to be somewhere for their job, they are entitled to compensation. If an employee must attend a mandatory meeting, whether the meeting is held at the office, off-site, or even online, the employee must be compensated. The employee must be compensated even if the work is "non-productive," meaning it does not relate to the employee's typical duties. That means that workers must be paid for mandatory company meetings as well as mandatory training.
Moreover, employees must be paid their standard rate of pay for attending mandatory meetings and training. If mandatory training pushes an employee past eight hours in a day or 40 hours in a workweek, the employee is entitled to overtime pay. Employers must also pay for work-related expenses and costs associated with mandatory training.
Exempt Activities Under CA and Federal Law: Voluntary Activities and Try-Out Time
The Federal Fair Labor Standards Act (FLSA) sets requirements concerning compensable work time. Under FLSA, employees must be paid for training and coursework unless all of the following are true:
Participation is voluntary and not required for the job
The training is not job-related
The training is outside of normal working hours
The employee performs no work during the training
Under California law, likewise, training time must generally be compensated. California employers are not, however, required to pay prospective employees for "try-out" time spent assessing a potential employee's skills. Try-out time during the hiring process is not compensable so long as the following is true:
The time is not actually being used as training time
The work performed during the try-out time is not productive
The testing time is of reasonable duration
For example, a restaurant worker tested on their food prep skills, an applicant undertaking a typing test, or a consultant tested on hypothetical scenarios would all be considered try-out time that does not require compensation.
If you are an employee with wage & hour or other employee rights concerns in Orange, Riverside, San Bernardino, Los Angeles, or San Diego counties, or a California employer dealing with employee contract disputes, discrimination claims, employee rights allegations, or other employment law issues, contact a qualified and detail-oriented California employment law attorney at Coast Employment Law at 714-551-9930 for a free consultation.