Types of Workplace Retaliation in California (and Examples)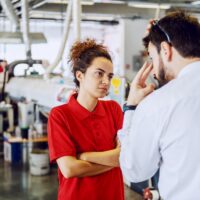 California law protects workers from unlawful retaliation. Employers who punish employees for complaining about illegal conduct or for otherwise performing actions that are protected by the law may be liable for retaliation. There are a number of different bases for a retaliation claim, and retaliation can take a variety of forms. Continue reading for a discussion of retaliation in California and the different types of conduct that can give rise to a retaliation claim.
Types of Unlawful Retaliation
Retaliation occurs when an employer takes an adverse employment action against an employee for engaging in legally protected behavior. There are many different bases for retaliation.
Workers are protected from retaliation for complaining either internally or externally regarding unlawful conduct in the workplace. Employers cannot retaliate against employees who report unlawful conduct to HR or other internal divisions within the company. Employers are also prohibited from retaliating against employees who file complaints with an external agency such as the EEOC, or who cooperate in an investigation or lawsuit concerning unlawful conduct in the workplace (such as by serving as a witness). Even if the allegations turn out to be untrue, so long as the employee had a good faith basis for bringing the complaint, they are protected from retaliation.
Alleged unlawful conduct that can give rise to a retaliation claim include:
Workplace discrimination
Workplace harassment or hostile work environment
Wage and hour violations such as unpaid overtime
Sexual harassment
Unsafe working conditions, hazards, or workplace injuries
Criminal conduct such as embezzlement, money laundering, or securities fraud
Violation of other employee rights
Workers are also protected from retaliation for exercising certain legally guaranteed worker rights. Employers are not permitted to retaliate against California employees for:
Taking protected family or medical leave
Filing, planning to file, or collecting benefits under a workers' compensation claim
Requesting an accommodation for a disability or religious beliefs
Attending jury duty
Resisting harassment or intervening to protect other employees from harassment or discrimination
Refusing to follow directions believed to be discriminatory or otherwise unlawful
Forms of Retaliation
Workplace retaliation can take many different forms. While the classic retaliation case involves an employer firing an employee for an unlawful cause, termination is not the only way that an employer can engage in illegal retaliation. Any of the following conduct could constitute unlawful retaliation:
Denying an employee a promotion
Denying an employee a reasonable request for a transfer to a new position or more convenient location
Denying an employee a bonus or other benefit
Demoting an employee
Reducing an employee's wages or salary
Rejecting a candidate for a position
Creating a hostile work environment in order to force the employee to quit ("constructive termination")
Preventing the employee's access to the training, equipment, support, or other items necessary to do their job
Switching an employee to a less desirable location, position, or shift
Giving an employee an unjustifiably poor performance review or an unsatisfactory job reference
Terminating an employee
Any adverse employment action or other conduct aimed at harming the employee, taken in retaliation for the employee's engagement in protected behavior, could constitute unlawful retaliation. Aggrieved employees have the right to bring a claim for unlawful retaliation and collect lost wages and benefits as well as other damages.
If you are an employee with retaliation or employee rights concerns in Orange, Riverside, San Bernardino, Los Angeles, or San Diego counties, or a California employer dealing with allegations concerning wrongful termination, harassment, or other employment law issues, contact a seasoned and trial-ready California employment law attorney at Coast Employment Law at 714-551-9930 for a free consultation.