What Are Illegal Firing Practices?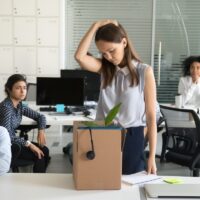 California and federal laws protect employees against wrongful termination for a number of reasons. Although most California employees are "at will," which gives employers wide latitude in choosing when and whether to fire employees, certain firing practices are considered unlawful. Employees who have been wrongfully terminated can seek to be reinstated, recover back pay, and pursue other damages against employers. Continue reading for a discussion of the most common illegal firing practices.
Common Unlawful Firing Practices
Breach of contract. Unless bound by an employment contract, employers can generally terminate an employee for nearly any reason, or no reason at all. So long as the employer does not base termination on an unlawful ground, as discussed below, the employer is free to terminate the employee "at will." If the employee is subject to an employment contract, however, the employer is bound by the terms of the contract. The contract may state that the employee can only be terminated for cause, or at the expiration of some period (a two-year employment period, a four-month probationary period after hiring, etc.). Termination of an employee in violation of the contract can open the employer up to breach of contract claims and result in civil liability.
Discrimination. Employers cannot fire an employee as a result of the employee's membership in a protected class. Protected classes are based on an employee's personal characteristics, including the employee's race, religion, gender, sexual identity, marital status, advanced age, pregnancy, disability, military or veteran status, or medical condition. An employer cannot fire someone because of their race, for example, nor can the employer "constructively fire" someone based on their race. Constructive termination occurs when the employer makes the employee's work situation so hostile or makes it so difficult for them to perform their job, that they are essentially forced to quit.
Retaliation. Employees cannot be fired in response to reporting a violation of the law or other wrongful conduct. An employee who reports, either internally or externally to a government agency, about unlawful activities (such as criminal conduct), harassment or discrimination, wage and hour violations (unpaid wages, overtime violations, etc.), or workplace safety violations, cannot be fired as a result. Employees must also be allowed to discuss their income and work conditions without fear of retaliation. Employers are also not allowed to retaliate against an employee for applying for or obtaining workers' compensation benefits.
Taking protected leave. California employees are guaranteed leave for several reasons, including family and medical leave, sick leave, lactation breaks, maternity leave, and even to vote in statewide elections or serve jury duty. California also guarantees employees at large companies the right to 40 hours of leave for certain child-related activities, such as participation in school activities. Employees may not be fired for taking protected leave or for requesting protected time off.
Other public policy violations. In some situations, an employer may terminate an employee under circumstances that are not explicitly prohibited under the law but violate some general public policy. To prove a public policy basis for an unlawful termination claim, the worker must show that the policy is supported by either constitutional or statutory law, that the policy benefits society at large, that the policy was well-established before the employee was fired, and that the policy is both fundamental and substantial. These types of claims are rare, but plaintiffs do occasionally make a successful claim. One of the more clear "public policy" bases for unlawful termination, for example, would be that the employee was fired for refusing to commit a criminal act (such as committing perjury).
If you are an employee with wrongful termination or other employee rights concerns in Orange, Riverside, San Bernardino, Los Angeles, or San Diego counties, or a California employer dealing with employee rights allegations, wage & hour disputes, or other employment law issues, contact a talented and thorough California employment law attorney at Coast Employment Law at 714-551-9930 for a free consultation.