What Is California's Law on Final Paychecks?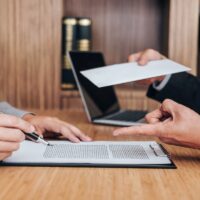 According to California employment law, individuals are entitled to their final paycheck almost immediately after willfully leaving or getting terminated from a job. If an individual quits their job, they are entitled to their final paycheck within 72 hours. If an individual is terminated from their job, then the employer is required by law to give them their final paycheck on the same day as their termination.
What Is Included in a Final Paycheck?
California law requires that final paychecks should include all wages that an employee is owed. This often means the following:
All wages earned that have not been paid for
Any business expenses that the employee is entitled to
The cash value of vacation days, bonuses, and other benefits
Any commission payments owed to the employee
Waiting Time Penalties
Employees have the right to immediate funds. If an employee who was fired has to wait for their paycheck, they are entitled to recover penalties that are owed by the employer. These penalties incur every day that an employee has to wait for their final paycheck.
Employees who quit their job are entitled to recover these same penalties as well. However, they are entitled to these penalties only after the required 72 hours have passed. In some cases, an employer may find themselves owing an employee more than the value of the final paycheck if they hold off on giving the employee their money in a timely manner.
How Are Final Paychecks Delivered?
An employee who is terminated should be given their final paycheck on the spot at their place of employment. Employees can request that their final paycheck be sent out through the mail at the available address documented to the employer. If an employee who quits their job does not pick up their paycheck, then the paycheck will be mailed to the designated address instead.
Final Paycheck By Industry
Some industries have more specific rules regarding final paychecks. In many cases, these industries have unique circumstances that bind the employee to the employer. Some circumstances may include the following:
An individual who is engaged in motion picture production and has either been laid off or has an unusual term of employment that requires a specific type of computation to determine their paycheck is required to be paid by the next regular payday.
Employees who are in the business of oil drilling and are laid off must receive their final paycheck within 24 hours of being let go. However, there's an exception that excludes Saturdays, Sundays, and holidays. In that case, payment will take place on the next available day.
Individuals who are employed by venues that host events like concerts or theatrical showings follow a slightly different set of rules. These employees and their employers will have entered into a collective bargaining agreement. This agreement will detail time limits for a final paycheck to be paid out.
Depending on the industry you are in, your employer, and your employment circumstances, there may be some ambiguity when it comes to your final paycheck. If you feel that your rights to your final wages have been violated, you have options on your side. Reach out to Coast Employment Law today to speak with an experienced attorney who will help you navigate your case.