Employers Now Required to Make Accommodations for Pregnant Workers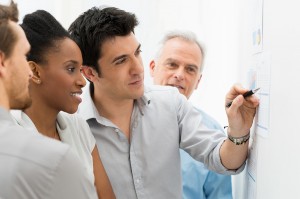 New guidelines released by the Equal Employment Opportunity Commission clearly require employers to make reasonable accommodations for pregnant workers, and not to let the person's condition get in the way of hiring the person or promotions, or be used as an excuse to fire an employee.
The guidelines were revised after 30 years, and now make pregnancy discrimination a part of sex discrimination and illegal in the workplace. The new guidelines are tougher, and clearly place the onus on employers to make working conditions easier for pregnant employees, who may need accommodations because of their condition. Under the new guidelines, discrimination against employees who have been pregnant in the past, or who may get pregnant in the future, is clearly prohibited. The new guidelines also provide very clear policies about the kind of accommodations that businesses may have to provide to their pregnant employees.
For instance, employers will now have to provide lighter work for pregnant employees who may not be able to perform certain activities because of their physical condition. Employers are also prohibited from forcing pregnant women to take leave in those cases where she is able to continue performing the job. The agency for the first time also clarifies that lactation is considered a medical condition related to pregnancy, and is therefore, protected under the law. That means women will now enjoy greater flexibility in their schedules when they need to breast-feed their child, and must also be provided a private place in the workplace to express milk.
Additionally, the new guidelines also include both fathers and mothers under the guidelines. According to the Equal Employment Opportunity Commission, both males and females must be considered equally in matters of parental leave. If the employer grants leave to new mothers beyond the number of days required after childbirth, it cannot refuse to provide the same leave to new fathers.
The responsibility is on employers to take great care when handling pregnant employees in the workplace. If you have pregnant women in your workplace, make reasonable accommodations that do not pose an undue excessive hardship for you. These revised guidelines will only add more bite to any pregnancy discrimination lawsuit that an employee may file against you.