Employee Attestation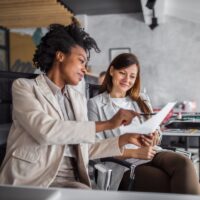 Employers in California are experiencing a high volume of employment-related legal claims, including claims related to unpaid wages, unlawful discrimination, harassment, retaliation, termination, workplace injuries and more. It is important for businesses to implement policies and practices that help reduce or even eliminate legal exposure. To date, most businesses are unaware of certain practices that may limit and/or eliminate legal exposure for little to no cost.
At Coast Employment Law, we assist companies in their endeavors to reduce/eliminate legal exposure by implementing a little-known, very simple and very inexpensive practice into their company. "Communication" and "respect" are key to building morale within the workplace. Communication is a very simple and easy workplace practice… especially with good "attestation" software.
What is "Attestation"?
"Attestation" is a declaration that something does or does not exist. HR attestation software is any software, including time and attendance software, that obtains information from employees and stores the responsive information for potential future use. If an employer communicates with an employee by requesting information, the employee will provide a response that may be extremely useful to the company (especially if it is stored). How?
Employers can proactively communicate with employees to stop legal issues from arising or spiraling out of control. For example, an employer may want to make continued requests to employees regarding whether they believe that their timesheets are accurate to ensure compliant compensation practices and potentially reduce wage claims. If an employee confirms the accuracy of their timesheet, it will be difficult for them to later claim that they did not receive all wages for that pay period.
What about attestation inquiries related to discrimination or harassment? Wouldn't it be great to learn what is in the minds of employees before a legal claim spirals out of control? If an employee informs an employer that no harassment or discrimination exists, great! Such information can be useful to show that such an employee did not believe, at that time, that they were experiencing harassment or discrimination. If the employee states that such behavior exists, the employer can promptly take appropriate steps to remedy such behavior. Everyone is happy.
"Pro-Active" Human Resources Solutions
Most HR employees or departments are reactive, meaning that they wait for legal issues to arise and then attempt to resolve the issues when turmoil peaks… often when it is too late. HR personnel typically wait for employees to voice complaints regarding workplace issues and thereafter attempt to resolve such issues. The problem with this practice is that employees often are too intimidated to make a complaint about a co-worker to another co-worker who may be a friend of the problem employee. In the world of modern technology, it is much simpler to obtain a good, proactive HR system to actively obtain and store information from employees daily, weekly or on another timely basis.
To obtain good information from employees, it is vital that you ask them the right questions. First, a question must be easily understood. Second, a question should not assume that the responder understands the HR issue which is the basis of the question. Third, a question should pertain to one issue (not multiple issues). Fourth, the question should comply with the company's actual practices and procedures. A question must be succinct, understandable, and provide enough information that it will allow an employee to provide an informed response.
The best part about a proactive HR solution like attestation is that it might be FREE. As stated, certain time and attendance software companies allow the ability to communicate with employees through their software. As you are likely using a time and attendance software system, the attestation capability may come at no extra cost to you (depending on the company).
The California employment law attorneys at Coast Employment Law can assist you with your attestation questions and requirements. Give us a call at 714-551-9930 or contact us online to schedule a consultation.