Do Employers Have to Pay for Jury Duty in California?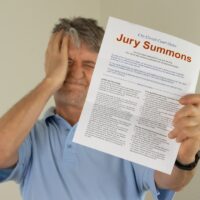 Jury duty, while not always welcomed, is a civic duty of every American. If you are one of the lucky many who are selected for jury duty, you may be wondering, what do you do if you have to miss work to carry out this obligation?
In California, employers are not required to pay their employees if they have to miss work because of jury duty. However, employers are strongly encouraged to offer paid relief as part of their benefits package. Additionally, California law does allow employees to use sick days and vacation days if they need the time off of work.
While it is unfortunate that employees don't have guaranteed payment if they have to miss out on work, the court system does provide some financial compensation to jury members. Starting on the second day of their jury duty, jurors are paid $15 per day for their jury duty. In addition to the base fee, jurors are paid a mileage fee for the travel that they do between their home and the courthouse.
Can My Employer Fire Me For Attending Jury Duty?
Under California's Labor Code, employers are not allowed to harass, intimidate, threaten, or take any coercive action against employees who are called to fulfill their jury duty. Because of this, it is illegal for an employer to fire an employee if they have jury duty.
If an employer violates this code, then they can face fines along with criminal penalties. These protections are also offered to employees who are called to serve as witnesses in a trial as well.
Know Your Rights
If you are called for jury duty, you have to take the necessary action to make sure your rights are protected. Once you receive a jury duty summons, start by checking to see if you meet any of the exemption requirements.
If you do not meet these exemptions, then you will need to let your employer know that you have been summoned to jury duty. Not letting your employer know in a timely manner may result in a loss of your rights and protections.
It is at this point that you should discuss with your employer what benefits, packages, or leave options are available for you because of your jury duty. Some employers may require you to submit forms and documentation from the court as proof of your jury duty. This is also a time to consider whether you will want to use any of your sick or vacation leave in the event your employer will not cover your lost wages.
If your employer does not offer a leave package or will not cover your wages while you are out, you may want to offer some creative solutions. Ask your employer if you're able to complete the work at a time outside of your contracted work hours or if your employer can be flexible with you during the times you need to leave for jury duty.
Get The Representation You Deserve
It is a violation of California Labor Laws to lose your job or be subject to negative action from your employer as a result of a summons for jury duty. If you feel that your rights have been violated because of action taken against you after receiving a jury duty summons, it's important to get the representation you deserve. In Orange County, contact an experienced employment law attorney at Coast Employment Law today to explore your options and potential right to compensation.