What Are Cancer Patients' Rights in the Workplace?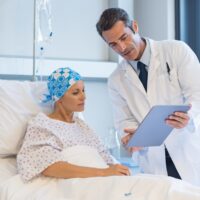 A cancer diagnosis can derail your life, but it doesn't have to. California and federal laws protect worker rights, even in the face of a cancer diagnosis. Continue reading to learn about cancer patient rights in California, and if you've been improperly denied benefits or discriminated against at your job, call our Orange County disability discrimination and labor law attorney for trusted advice and representation.
Medical Leave
California and federal law guarantee employees the right to take protected leave for medical reasons. The federal Family and Medical Leave Act (FMLA) applies to employers with 50 or more employees and requires them to provide up to 12 weeks of unpaid, job-protected leave to workers to deal with their own serious medical conditions or to care for an ill family member. The California Family Rights Act (CFRA) likewise guarantees employees up to 12 weeks of unpaid, job-protected leave for medical issues. CFRA applies to employers with at least five employees, covering workers who have worked at least 1,250 hours for that employer in the most recent 12-month period.
CFRA and FMLA leave can be taken separately and consecutively, depending on the serious health condition and who is experiencing the condition. That means that a covered California worker who is pregnant may be eligible to take 12 weeks of FMLA leave and thereafter take 12 weeks of CFRA leave to bond with their baby. Thus, the employee may have the right to take up to 24 weeks of unpaid, job-protected leave per year to deal with their treatment and recovery. The employer does not need to pay the employee during that time, but they must be willing to take the employee back at the end of the leave rather than fire them. If the worker takes more than their legally allotted leave, the employer can terminate the employee.
Disability Discrimination
In addition to an employee's right to take covered medical leave, employees are also entitled to be free from disability discrimination. Disability discrimination occurs when someone is denied the benefits of employment or otherwise treated differently as a result of their disability. The federal Americans with Disabilities Act (ADA) applies to employers with at least 15 employees and prohibits discrimination in the form of pay disparities, hiring, firing, demotion, reduced benefits, docked pay, exclusion from meetings, unfair schedule changes, harassment, and other unequal treatment. California's Fair Employment and Housing Act (FEHA), the Unruh Civil Rights Act, and the Disabled Persons Act likewise protect workers against disability discrimination.
The law recognizes that disabilities can, ultimately, prevent a person from being able to do their job, but assumptions about qualification cannot be a mere pretext for disability discrimination. Workers can bring a claim for disability discrimination when:
The worker is qualified for the job, with the necessary skills, education, and training
The worker can perform the essential functions of the job, despite their condition, with reasonable accommodation
The employer treated the worker differently from other workers in job-related activities because of their cancer diagnosis, history of cancer, or related factors
The employee's cancer qualifies as a disability–that is, it has, at times, substantially limits the employee's ability to do everyday activities, or the employer believed cancer had so affected the employee (the employer regarded the employee as disabled based on the cancer diagnosis alone)
If an employee is subjected to disability discrimination or harassment based on their cancer diagnosis, they have the right to seek damages against their employer.
Reasonable Accommodation
Laws prohibiting disability discrimination clarify that an employee cannot be discriminated against if they can perform the essential functions of their job with reasonable accommodation. Reasonable accommodation may include modified work schedules, alteration of duties, additional rest breaks, leave to see the doctor, and assistive or adaptive equipment such as wheelchair ramps.
If the employer can provide the accommodation without suffering undue cost or other hardship, the employer must do so to allow the worker to do their job. Refusing to provide reasonable accommodation and thus preventing an employee from doing their job as a result of their disability constitutes disability discrimination.
If you are an employee with a disability discrimination claim, an FMLA or CFRA claim, a wage & hour dispute, a retaliation matter, or other employee rights issues in Orange, Riverside, San Bernardino, Los Angeles, or San Diego counties, or if you are a California employer dealing with employee rights allegations, wage & hour issues, employee contract disputes, or other employment law issues, contact a seasoned and effective California employment law attorney at Coast Employment Law at 714-551-9930 for a free consultation.