California Holiday Pay: What are the Laws?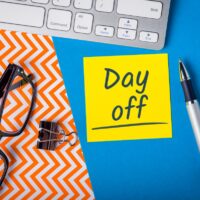 California law offers many protections for workers, including guaranteed minimum wage, meal breaks, rest breaks, and overtime pay for most hourly workers. As the holidays approach, many employees are performing mental calculations to decide whether to take those days off or make some extra cash. Many businesses offer special pay rates for working on Christmas, New Year's Eve, Thanksgiving, and other holidays. Given that these are national (or state) holidays, are special pay rates guaranteed under federal or state law? Or is holiday pay just a private incentive offered by companies voluntarily? Continue reading for a discussion of the holiday pay rules in California, courtesy of our seasoned California employment law team.
California Holiday Pay
It's actually a misconception that state or federal law requires employees to pay workers a special holiday rate. While many employers offer to pay employees at 1.5 times or double their normal hourly rate to work on official holidays, the employers are choosing to do so voluntarily. An at-will employee is guaranteed no special holiday pay.
Employment contracts may, of course, stipulate that employees are paid special rates for holiday work. Many employers have policies that provide for the typical overtime rate for working over the holidays (time and a half or double pay). If an employer agrees to pay employees an enhanced hourly rate for working on Christmas, whether that agreement is expressed in a workplace policy manual or a private employment contract, the employer will be bound by its agreement. Moreover, if the employer is subject to a collective bargaining agreement guaranteeing workers special pay for holiday work, they are bound by that contract.
Holiday Closures
There are similarly no laws requiring private companies to close their doors on federal or state holidays. Restaurants, grocery stores, and shopping centers can choose to remain open over the holidays, although many choose to remain closed in observance of the holidays and to allow workers to spend time with their families.
Workers are not guaranteed holidays off. Most employers make holiday work optional or close their doors over the holidays, but there's no legal requirement to do so. Employees can be required to work on holidays unless an employment contract (including an employment offer letter), employment policy, or collective bargaining agreement requires otherwise. Likewise, nothing in the law guarantees employees special pay for weekend work or the option to take days off over the weekend. Government offices such as post offices and courthouses are, however, closed on official holidays.
Overtime Pay
While there is nothing in the law requiring employers to give employees time off for the holidays, covered workers are guaranteed both minimum wage and overtime pay. If a covered employee in California works more than eight hours in a day, more than 40 hours in a workweek, or more than six days in a workweek, the employee is entitled to overtime pay.
Overtime pay equals one and a half times the worker's normal hourly rate for hours worked in excess of eight on a given workday or for the first eight hours on the seventh consecutive work, and double pay for hours worked in excess of 12 in a given workday as well as any hours worked in excess of eight on the seventh consecutive workday.
If you are a California employer facing wage and hour allegations and other employment law issues, or a worker with California employee rights concerns in Orange, Riverside, San Bernardino, Los Angeles, or San Diego counties, call on an experienced and talented California employment law attorney at Coast Employment Law at 714-551-9930 for a free consultation.