Bill Outlawing Mandatory Arbitration Agreements for Employees Approved by Assembly and Senate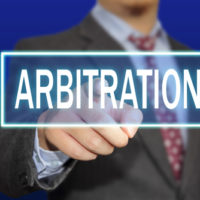 A new law would make it illegal for an employer to require an employee to sign an arbitration agreement as a condition of employment. AB 465, the bill in question, has been approved by both the California Assembly and Senate, and is now awaiting approval from Governor Jerry Brown. The Governor has until October 11 to approve or veto the bill; if he takes no action, the bill will automatically become law. The law would only affect employment contracts and arbitration agreements entered into on or after January 1, 2016.
The law, supported by the California Labor Federation, would ban agreements to arbitrate, or any other agreements to waive a right, remedy, penalty, or forum available under the California Labor Code, where employment is conditioned upon assent to the agreement. Thus, an employee forced to agree to individual arbitration in order to accept a job offer would be able to invalidate that arbitration agreement. The law would also bar employers from threatening, retaliating against, or discriminating against employees who did not waive their rights under the Labor Code. The law would not apply to employees who were represented by attorneys when they agreed to waive their right to sue in court as a condition of employment, nor would it apply to employees who must be members of self-regulating agencies, such as securities traders.
Legal experts have speculated that the law might not survive review by federal courts, as it could be seen as discouraging arbitration, going against the Federal Arbitration Act. Regardless of whether the law may eventually be invalidated, employers are nevertheless advised to begin preparing for the change in law. While the new law would not affect existing agreements to arbitrate, it would require that any arbitration agreement clearly state that it was entered voluntarily, and not as a requirement of employment. Employers must also be prepared to show that the agreement was entered knowingly and voluntarily, since, should the matter go to court, the employer bears the burden of showing that the employee was not coerced into signing the agreement and understood the rights being waived by signing. If an employee successfully invalidates an arbitration agreement, that employee would be entitled to attorneys' fees if the agreement violated the new law. Consult with an attorney to ensure that any employment contracts and agreements to arbitrate comply with the law.
If you are an employee or employer with questions about how this shift in the law might affect you, contact Tustin-based Coast Employment Law for a consultation, at 714-551-9930.